Riders On The Storm é a stand de longo alcance de Mariya Fitzgerald em ReRevolution.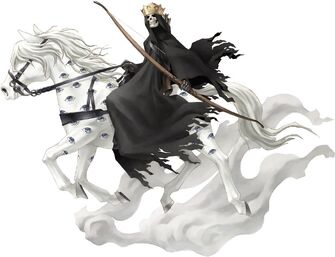 Aparência Edit
Riders On The Storm se assemelha à uma figura da morte empunhando um arco de madeira e usando uma coroa dourada. A stand está montada em um cavalo branco com vários olhos por todo o seu corpo, no qual aumentam a quantidade conforme Mariya acerta suas flechas nos oponentes.
Quando a stand é invocada, o local onde ela está rapidamente se enche com uma névoa branca.
Habilidades Edit
"A flecha atravessa a cabeça de Jacob. Ele não sente dor. A visão dele vai desaparecendo aos poucos."
Flechas Cegantes:
Quando alguém é atingido por uma flecha disparada pela stand, o alvo terá seus olhos tomados pelo cavalo, impossibilitando qualquer maneira de enxergar por eles ou recuperá-los.
Névoa: Após a névoa surgir junto com Riders On The Storm, qualquer pessoa que tentar fugir dentro da área de efeito ficará totalmente perdido nela.
| Atributos | |
| --- | --- |
| Poder destrutivo | 5 (A) |
| Velocidade | 3 (C) |
| Alcance | 4 (B) |
| Precisão | 5 (A) |
| Durabilidade | 4 (B) |
| Potencial | 1 (E) |
Community content is available under
CC-BY-SA
unless otherwise noted.