Jurassic World: Dominion Dominates Fandom Wikis - The Loop
Play Sound
Diogo Armani, conhecido como Dio é o principal antagonista da parte I, ReRevolution. Seu stand se chama Don't Stop Me Now.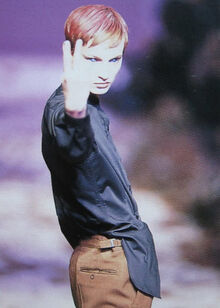 Dio subiu ao poder com seu próprio conhecimento e carisma e se tornou o prefeito de Big Springs em 1880. Seis meses depois, ele obteve o Revólver de Bronze de uma fonte misteriosa e começou o seu plano para a criação de um país habitado apenas por usuários de stand, o que envolvia simplesmente atirar em todo mundo e repopular o lugar depois com os sobreviventes.
O massacre dele envolveu algumas cidades do estado do Texas - Big Springs, Bad City, Comfort e Austin.
Os subordinados de Dio inicialmente são:
Danny Boy (Sea of Cloud)
Demarco (Ode to Viceroy)
John Sinatra (All the Madmen)
Ferris Berry (A Forest)
E. Collins (The Doors)

Peter Nobel

(

Cherry Bomb

)
Aparência
[
]
Diogo é um homem magro e porte levemente atlético, cabelo ruivo curto, olhos com um tom de azul muito forte e roupa formal.
Personalidade
[
]
"..você veio com aqueles traidores? De um jeito ou de outro, não posso deixar você vivo, mas se eu falhar contra esses conspiradores, quero que você faça parte desse novo mundo."
Dio é alguém que acredita firmemente no seu objetivo. Geralmente culto e carismático, não tende a perder a calma. Ele entende o grupo principal (Nick, Archie e Zartmo) como um grupo de conspiradores que podem e devem ser parados mesmo depois de derrotar toda a sua guarda.
Destino final
[
]
No final de ReRevolution, Dio assassina Mariya atirando facas em seu pescoço, usa o Revólver de Bronze no corpo caído de Zartmo e é subitamente traído pelo seu maior subordinado, Peter Nobel e é derrotado com um ataque de Cherry Bomb