Close to the Edge (ou C2TE) é o segundo stand da Meg Sinatra em Witch Hunt e Big Band Blues. Sua habilidade nunca foi utilizada em jogo. Ele passa a existir depois que Margareth acorda do coma sem memórias.
Aparência
Edit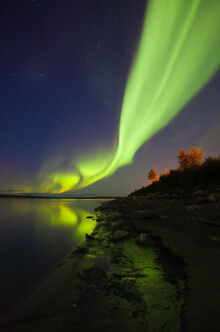 Close to the Edge não tem uma aparência física e se manifesta como uma aurora boreal verde, examente como acontece com Delta Blues depois da sua evolução.
Habilidades
Edit
"Uma aurora boreal verde rodeia Monroe inteira. - E depois um instante, ela desaparece."
Criação de vida:
Close to the Edge tem a habilidade de dar vida pra seres vivos ou não-vivos, adicionando um período de 192 horas depois da morte ou ativação da habilidade. Isso pode ser utilizado pra reviver automaticamente ou não pessoas, animais ou plantas.
Empoderamento: Tudo o que for alvo desse stand tem a sua "determinação" altamente reforçada, melhorando as habilidades de stands.
Destino: Close to the Edge força o destino a se repetir num ciclo eterno de sofrimento e iluminação. Depois da ativação da habilidade, os sujeitos afetados renascerão com variações em aparência e habilidades. Esse efeito se aplica também ao próprio stand, destinado a se repetir infinitamente.
| Atributos | |
| --- | --- |
| Poder destrutivo | 0 (N/A) |
| Velocidade | 0 (N/A) |
| Alcance | ∞ (A) |
| Precisão | 3 (C) |
| Durabilidade | ∞ (A) |
| Potencial | 0 (N/A) |
As habilidades de Close to the Edge são vagamente baseadas na tradição budista do Samsara.
O stand é homônimo de uma música do Yes com o mesmo tema.
Community content is available under
CC-BY-SA
unless otherwise noted.