Close to You é o stand de Stanley Bravo em Witch Hunt.
Aparência
Edit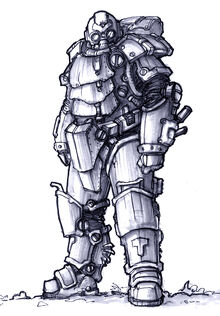 Close to You tem o físico um pouco maior que o do usuário e é coberto por uma armadura pesada de placas e uma máscara de gás.
Habilidades
Edit
"Stanley cria um ponto em alguém que virou pedra e cria outro no dançarino. O corpo semi-petrificado do Tyler bate contra Speedy John com grande força."
Controle de atração:
Cria um ponto em determinado alvo e um outro ponto em outro alvo. A mão esquerda cria um ponto A e a mão direita um ponto B. Se ambos os pontos estiverem colocados e o usuário disser "Close to you", o alvo mais pesado é atraído para o alvo mais leve e os pontos desaparecem. A velocidade da atração é proporcional ao peso dos objetos.
| Atributos | |
| --- | --- |
| Poder destrutivo | 3 (C) |
| Velocidade | 3 (C) |
| Alcance | 5 (A) |
| Precisão | 3 (C) |
| Durabilidade | 2 (D) |
| Potencial | 2 (D) |
Community content is available under
CC-BY-SA
unless otherwise noted.